New digital course: unlock advanced insights with Google BigQuery and Google Analytics 4
This course, called Query GA4 Data In Google BigQuery, is designed for marketing professionals who want to dive into the world of queries, and for data professionals who need to skill up on GA4-specific knowledge.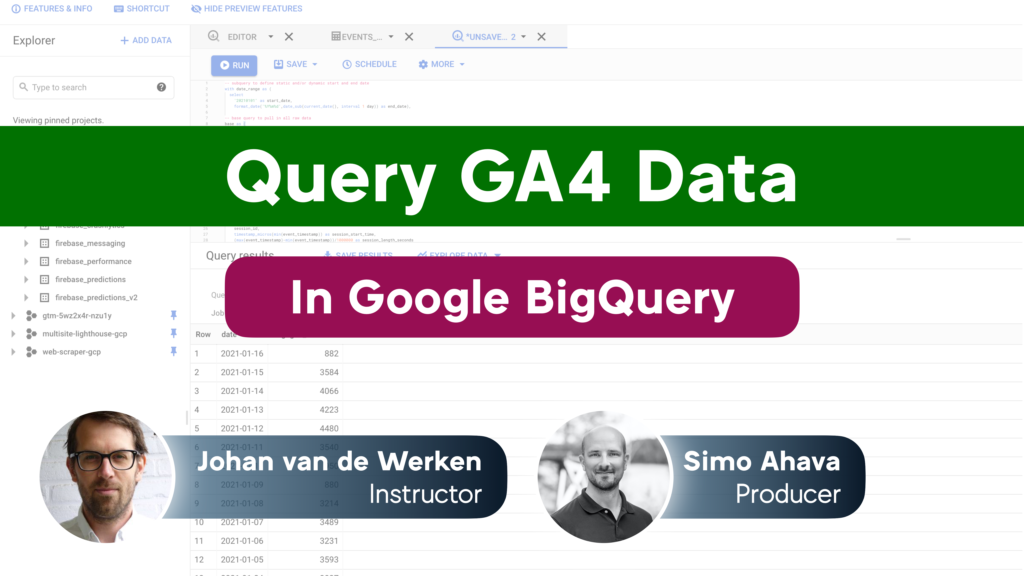 If you visit this platform regularly (and I know plenty of you do!) you've probably noticed that the amount of new articles decreased heavily. Luckily, this has nothing to do with a lack of motivation or inspiration on my side, because the GA4 ecosystem is still in an early phase and there are numerous topics I haven't touched upon yet.
The reason is this: I am very proud to announce that I have collaborated with Simo Ahava and Mari Ahava to deliver an extensive digital course on Google Analytics 4 (GA4) and BigQuery on this brand new technical marketing learning platform Simmer. As my time is limited, from now on I will mainly add new content to the course instead of this platform.
Course Deliverables
Create the Google BigQuery project and set up the GA4 data export
Understand the GA4 data schema
Learn (and master) designing, writing, and executing SQL queries
Build your own interpretations and definitions of GA4 data with custom queries
The course comprises 70+ videos, grouped into lessons. Each lesson captures some essential part of Google BigQuery.
The videos are mainly voice-over screen recordings, with enhancements to make it easier to follow along. The course is self-paced, and you can take it at your own leisure.
The individual topics always contain text content to help flesh out the concepts, and there are also SQL references for new concepts learned during the lesson, as well as code snippets you can copy-paste into the SQL editor of Google BigQuery.
You don't have to worry about building your own GA4 dataset for this course. By enrolling, you will get access to a BigQuery GA4 dataset prepared specifically for this course. It contains real-world data against which you can build queries to solve real-world problems!
Course details
Enrolling in the course is easy. Find all details about the course and enroll now! ⬇️