New course on GA4 BigQuery: enrolment open for early birds!
This course, called Query GA4 Data In Google BigQuery, is designed for marketing professionals who want to dive into the world of queries, and for data professionals who need to skill up on GA4-specific knowledge.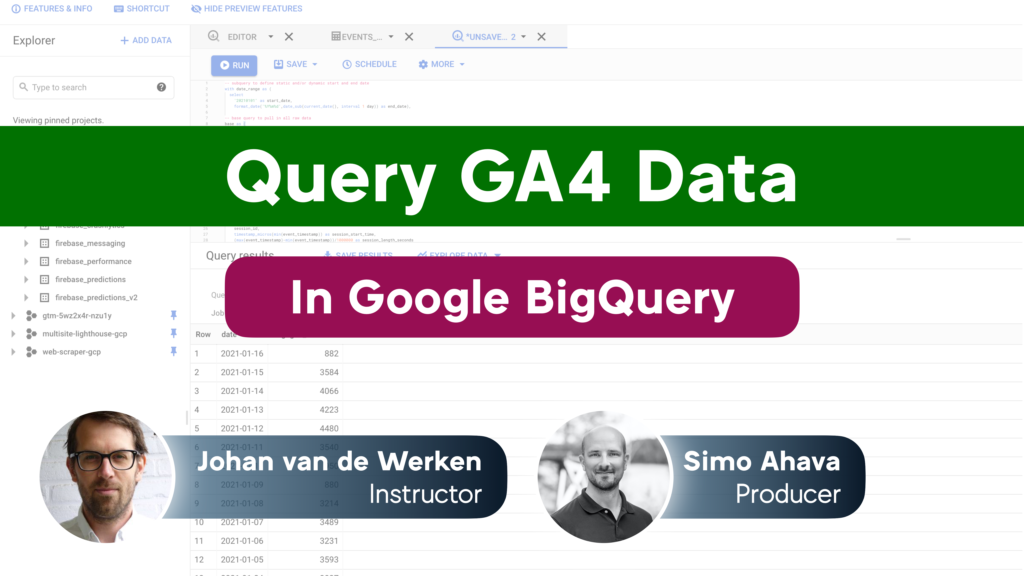 If you visit this platform regularly (and I know plenty of you do!) you've probably noticed that the amount of new articles decreased heavily in the last couple of months. Luckily, this has nothing to do with a lack of motivation or inspiration on my side, because the GA4 ecosystem is still in an early phase and there are numerous topics I haven't touched upon yet.
The reason is this: I am very proud to announce that I'll be collaborating with Simo Ahava and Mari Ahava to deliver an extensive digital course on Google Analytics 4 (GA4) and BigQuery on this brand new technical marketing learning platform Simmer.
Course Deliverables
Create the Google BigQuery project and set up the GA4 data export
Understand the GA4 data schema
Learn (and master) designing, writing, and executing SQL queries
Build your own interpretations and definitions of GA4 data with custom queries
Course details and early bird discount
Enrolling in the course is easy. Click over to the course page, and click the big banner link.
Find all details about the course and enroll now! ⬇️